Cosmetics created for tanning in the solarium – when it seems to us that we have seen everything … They can still surprise us!
Colors that attract attention
Colorful sign "BRONZE" on the labels indicate an unusual interior… Each of the lotions is a different colour of the cosmetic: from blue (Accelerator Butter), through light pink (Tingle Lotion), brown (Bronzer Lotion), to pastel green (Accelerator Lotion CBD+ Carrot Oil). There has never been such a rainbow in tanning lotions!
The secret of the series' effectiveness: Tan Synergy Technology
Tan Synergy Technology means synergy (i.e. strengthening connection):
UV rays;
a complex of ingredients that stimulate natural melanogenesis (skin pigmentation);
Depending on the selected product, the complexes are based on tyrosine or its combination with magnesium and manganese ions.
and an innovative mix of emollients (even more effectively transporting active ingredients deep into the skin).
With Constant Bronze, the tan appears much faster and stays on the skin for longer … Much longer!
Tattoos – true depth of color
Each cosmetic from the series contains the TATTOO ENHANCING complex. It is an original mix of emollients and oils for tattoo care, which enhances their color.
Even more & more bronze
Constant Bronze sachets contain 20 ml of the cosmetic – which is 33% more than standard tanning lotions in a solarium (15 ml). This is great news if ordinary sachets have always left you feeling a little unsatisfied…
Choose your favourite Constant Bronze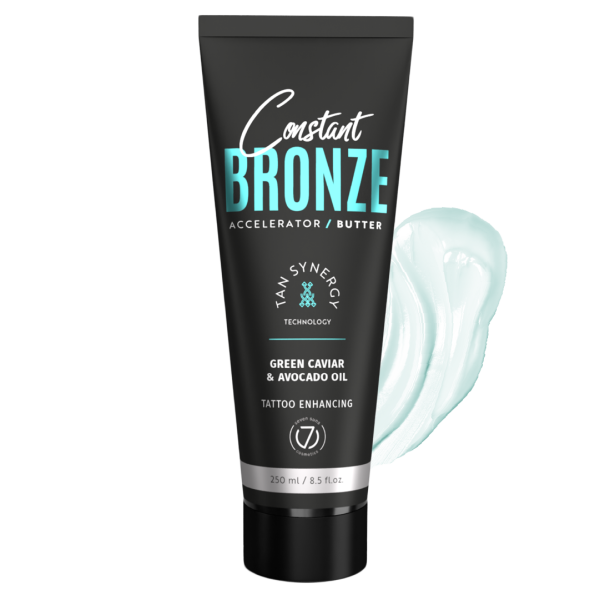 Accelerator Butter – rescue for dry skin
absorbs instantly, leaving a light, pleasant film on the skin;
intensively moisturizes the skin – up to 24h – thanks to the content of green caviar extract;
rich in nourishing oils (including avocado and shea butter);
fragrance: a fresh combination of pineapple, blueberries and gardenia.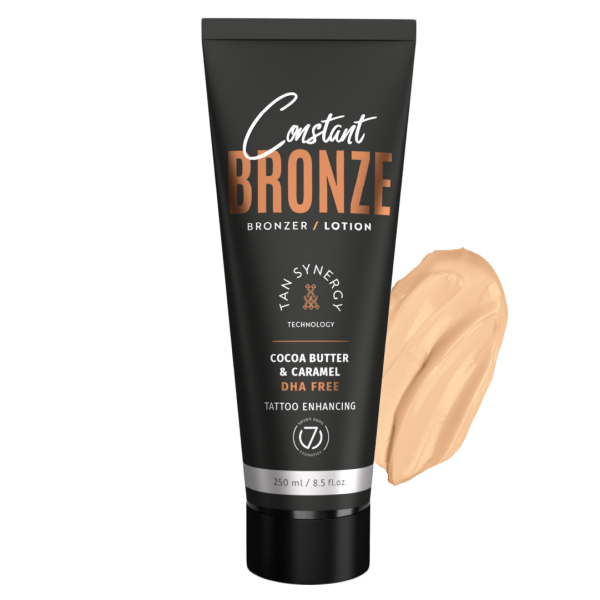 Bronzer Lotion – firms and enchants with an oriental fragrance
contains natural bronzers (caramel and walnut);
provides an immediate, even effect, without streaks;
firms the skin and reduces cellulite thanks to guarana and green coffee oil;
fragrance: oriental notes of musk, ambergris, and sandalwood with the addition of tangerine.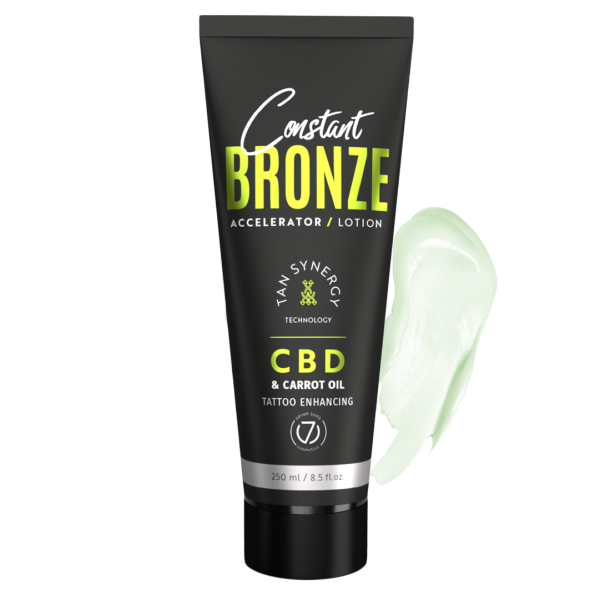 Accelerator Lotion CBD+Carrot Oil – relaxation, relief and hydration
CBD deeply moisturizes the skin and soothes irritations;
carrot root oil (source of beta-carotene) provides a deep shade of brown;
effect: skin rested and tanned, as after returning from vacation!
fragrance: refreshing mix of watermelon, rhubarb, peach and hibiscus.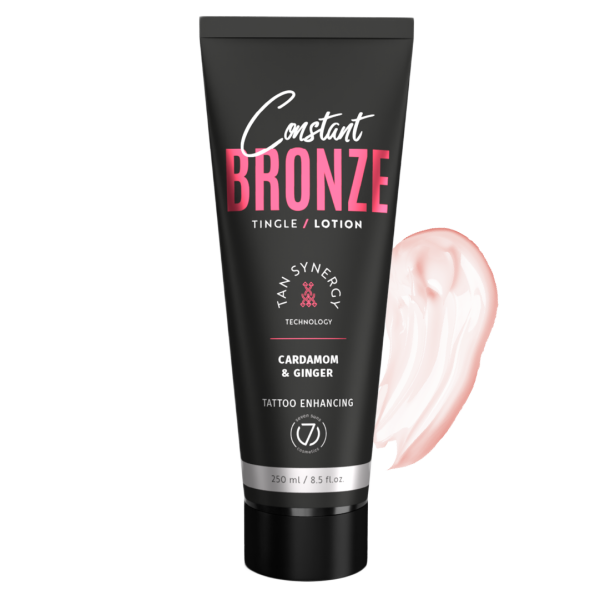 Tingle Lotion – works when everything else fails
instant tingle effect (warming and reddening of the skin);
firms the skin, reduces fatty tissue and has anti-cellulite properties;
aroma: a mix of cinnamon, cloves, mango, mint and eucalyptus.
Choose The One!
Do you already know which one you will choose?
Get to know the whole series even better: Constant Bronze – 7Suns Cosmetics