Have you ever come out of the solarium and found yourself smelling like artificial strawberry or sweet candy? Intense, sweet, and even suffocating — this is how you can usually describe the scents of tanning cosmetics. Will the newest tanning accelerator from 7suns solve the problem? Let's take a closer look at the mysterious properties of this turquoise surprise!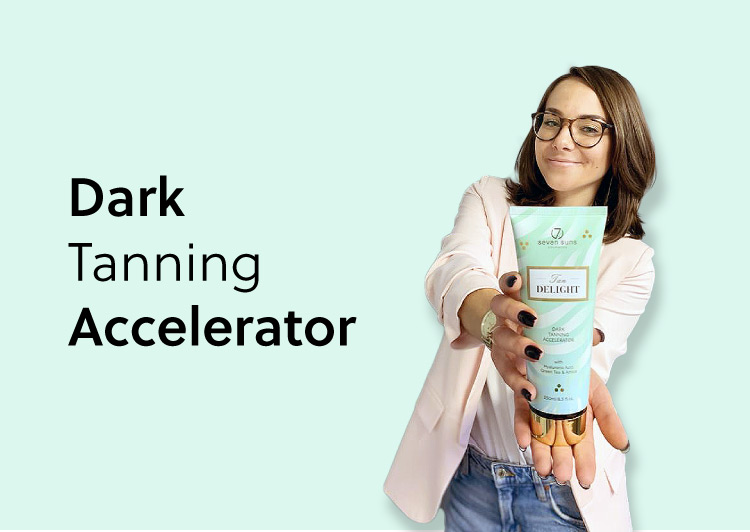 Tanning accelerator — first impressions
The tube of cream looks dignified, elegant, and subtle. From the very first moment, it brings to mind delicacy and naturalness. The Tan Delight label, due to the leaves and pastel shades of blue and turquoise, can be associated with the sea depth, rest, and blissful relaxation. A 250ml tube with a golden cap looks exclusive, and the product is easy to squeeze out.
We can read on the packaging that Tan Delight is a «dark tanning accelerator», which allows us to hope that the effects will be deep and long-lasting. The cosmetic contains Hyaluronic Acid, Green Tea, and Arnica. Thanks to these details, we can already guess what superpowers the product has. Expect anti-aging, intensive care, and mega acceleration.
Immediately after unscrewing the cap, an interesting, fresh scent begins to float in the air. Worried about candy-sweet? With Tan Delight these worries are sent into oblivion! Let's see together what else is interesting in this charming balm.
Effectiveness of the tanning accelerator
Tan Delight has an alabaster-white colour of the cream, which will please people who are afraid that the cosmetic will stain their clothes. Seekers of an even tan will also not be disappointed. With this product, discolouration and streaks become a distant past that won't come back anytime soon!
The light, powdery texture of Tan Delight tanning accelerator makes the cosmetic easy to spread and almost blends into the skin. The balm leaves the skin silky smooth, soft, and supple. No more flaking, dry body. Bye, bye!
And the scent of the product? It deserves a lot of attention! Interesting, ambiguous, fresh … Tanning with this cosmetic can be compared to a visit to an exclusive SPA. Relaxation, bliss, good energy, sensual and soothing relaxation. The unique fragrance brings to mind the wild corners of the world, filled with unique character. You can start dreaming … Just check where your senses go…
After few tanning sessions
The tan obtained after the session with Tan Delight is long-lasting and elegant. The accelerator does not contain bronzers, so the colour is natural. Fast accelerating ingredients maximize the effects and the colour develops gradually, so you should wait up to 48 hours for the full spectrum of results.
Tan Delight is a product with intensive skin-care properties. The skin becomes soft, firm, elastic and visibly in better condition than before using the product. After a few sessions, the skin is flexible and looks radiant.
Tan Delight, compared to other 7suns products from the accelerator category, certainly has the widest spectrum of properties. No wonder — it's a top-shelf lotion and you can see it at first glance. It's a lotion that turns an ordinary tanning session into an extremely relaxing experience.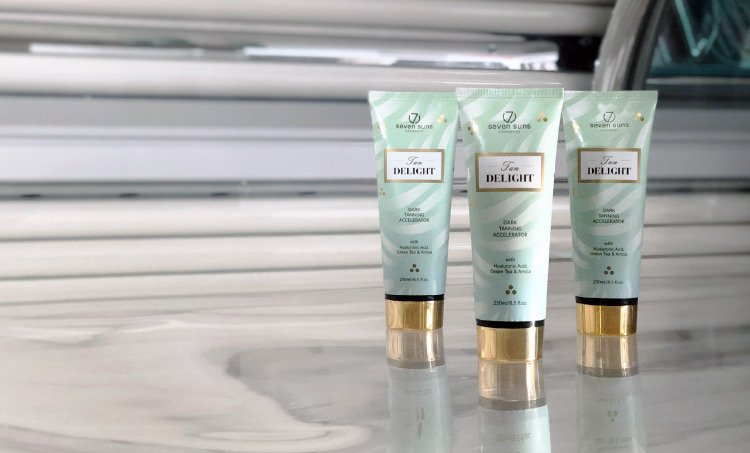 Perfect tanning lotion?
Tan Delight is one of the most comprehensive products in the entire offer of 7suns Cosmetics. It will be great for both women and men. It allows you to forget about the most undesirable effects caused by tanning cosmetics.
The cosmetic can be compared with the leading accelerators of the best brands. Summer Girl by Tan Asz U or even Accelerator by Australian Gold do not match it in terms of quality (ingredients) or visually. For this reason, Tan Delight deserves a high position among its competitors.
The Tan Delight tanning accelerator is a masterpiece in many aspects. Looks great on a shelf, is practical, and works brilliantly. Can you expect anything more from tanning lotion?!
SUNNY TIP:
Tan Delight is a product for special tasks. If you also use it after tanning, you can expect doubly soft skin!